Hangzhou, China - The Ant Group-led Alipay+ program has now integrated seven more Asian e-wallets.
Users from ten e-wallets in Malaysia, Mongolia, Singapore, South Korea, Thailand, Hong Kong SAR, and Macau SAR can now make transactions in China using their domestic e-wallets.
Ant Group is targeting a potential user base of 175 million with this initiative, signaling its increased integration into China's vast commerce domain.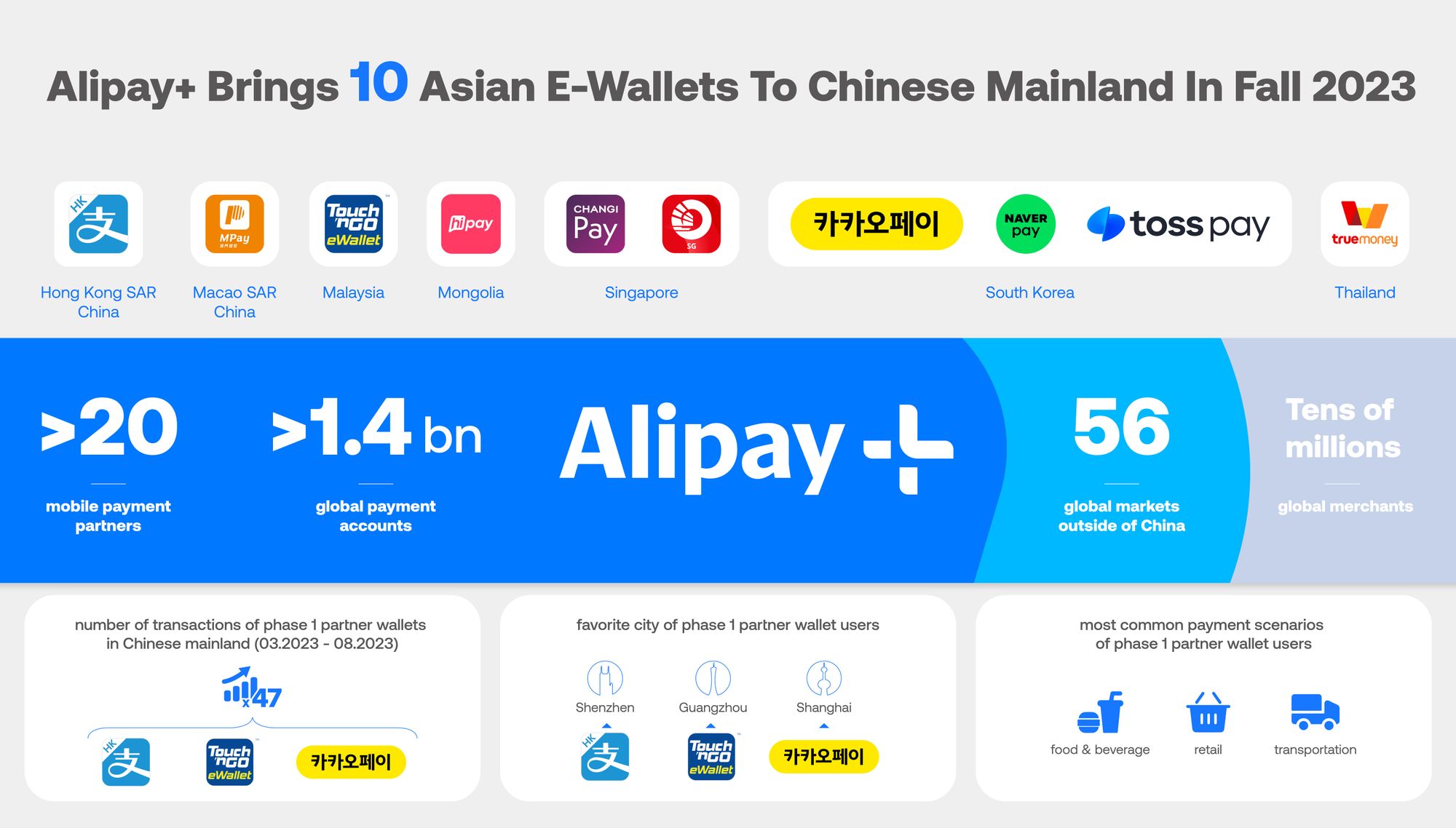 Why it matters:
The move brings digital wallet users from Asia closer to China's robust commerce network, marking a significant step in the evolution of digital payments.

The Key Points
The A+China program combines mPay, Hipay, Changi Pay, OCBC, Naver Pay, Toss Pay, and TrueMoney with Alipay.

AlipayHK, Touch 'n Go eWallet, and Kakao Pay were the first participants in the 2022 launch.

This system ensures a secure, fluid, cashless payment mechanism and competitive currency conversion rates.

Payment throughput via A+China wallets such as Kakao Pay, Touch 'n Go eWallet, and AlipayHK increased 47 times in the first half of 2023. Shanghai, Guangzhou, and Shenzhen are leading the way in these transactions.
The Big Picture
Ant Group's International Business Group designed and executed the program, which connects global merchants to a broad digital customer segment.
Excluding China, this infrastructure includes 5 million merchants in 56 markets.
Research from PricewaterhouseCoopers suggests that cashless transactions could double or triple by 2030.
While China remains at the forefront of digital wallet adoption, Southeast Asia is quickly becoming the fastest-growing mobile payment arena.
Statements were made by key personnel from the Ant Group. Douglas Feagin, Senior Vice President, emphasized the importance of a diverse digital commerce ecosystem in the upcoming strategy of Alipay+. Eric Jing, CEO, appreciated the cooperation that promotes choice and innovation in cross-border commerce.
In a supportive gesture, NetsUnion Clearing Corporation expressed its commitment to supporting major cross-border mobile payment events, such as the upcoming Hangzhou Asian Games.
Comments