South Korean telecommunications giants SK Telecom and KT are set to showcase their innovative technologies for the future at the upcoming Mobile World Congress (MWC) in Barcelona, Spain.
Both companies plan to highlight their digital transformation and artificial intelligence technology at MWC.
SK Telecom (NYSE: SKM) will showcase cutting-edge technologies such as AI, UAM, and 6G under the theme "AI, the Wave of Innovation" at Hall 3, Booth 3I30 at Fira Gran Via.
Vision AI has robotics, security, media, healthcare, and more applications, and location AI has applications in smart cities and transportation.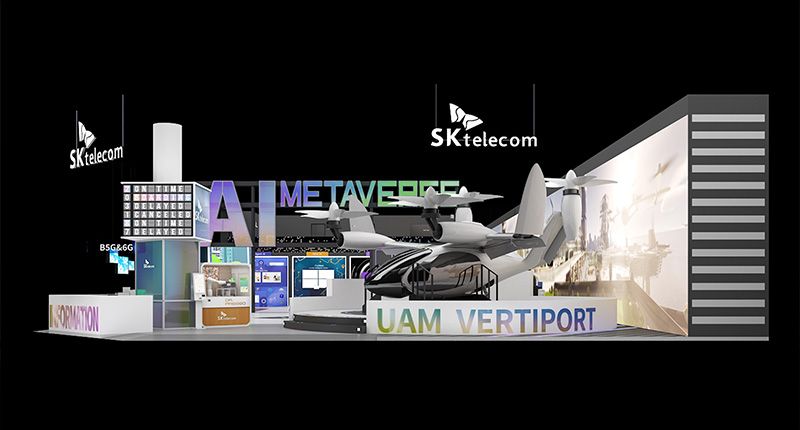 SKT will also showcase a life-size UAM aircraft simulator and a UAM reservation and ticketing service on its integrated mobility platform 'TMAP,' allowing visitors to virtually experience this innovative future mobility.
In addition, the company will showcase next-generation (6G) mobile network technologies, security technologies based on quantum mechanics, and 'ifland,' its metaverse service launched on the global market.
Meanwhile, KT(NYSE: KT) will showcase its DX capabilities at the "DIGICO KT" exhibition pavilion in Industry City, a GSMA joint space.
KT's pavilion will be organized around DX Platform, DX Area Expansion, and DX Technology Leadership.
Genie Labs' AI research portal, Rebellion's AI semiconductor manufacturing technology, and Moreh's AI semiconductor design technology will be displayed in the DX Platform area.
The DX Area Expansion Zone will showcase experiences in various industries, including finance and media with Group companies, virtual reality B2B and personal metaverse platforms.
Various robots will be on display in the DX Technology Leadership Zone, including a delivery robot that can be cooled or heated and an AI Sterilization Robot that can be used for the sterilization of the virus in the exhibition hall.
In addition, the DX Technology Leadership Zone will showcase MEC technology developed in collaboration with a global telecommunications company as part of a GSMA project.
Both companies will demonstrate their commitment to innovate and provide a glimpse into the future of telecommunications and digital transformation.
Please also read.
KT Corp reports the Q4 2022 business results.
KT and Lotte On Partner to Enhance Logistics with AI-Powered Solutions.
KT signs MOU with the Mongolian government to supply rare earth and other mineral resources.
KT Alpha supplies 1,400 pieces of content over the Apple TV App.
KT launches Virtual Spaces service called "Meta Lounge" for B2B.
KT and Neubility hold hands for market expansion.
KT and DeepBrain AI launch AI Concierge for hotels.
SK Telecom and Dongwoo Fine-Chem Jointly Develop RIS Technology for 6G.
SK Telecom Reports Strong Growth In 2022, Plans To Transform Into An AI Company.
SK Telecom launched its metaverse, ifland, worldwide.
SK Telecom Holds Hands With Japan's No.1 Telco – NTT Docomo.
SK Telecom reveals its Q2 2022 business results.
SK Telecom obtains the license from MyData business.
SK Group will invest $195 bln in battery, bio, and chips.
SK Square reveals its Q1 2022 business results.
SK Telecom and SK Square strengthen their partnership with Deutsche Telekom.
Comments