New York, NY, USA - The LED lighting market in South Korea is expected to grow, with an anticipated increase of USD 1.87 billion from 2022 to 2027.
This data represents a CAGR of 7.4%, according to a report by Technavio.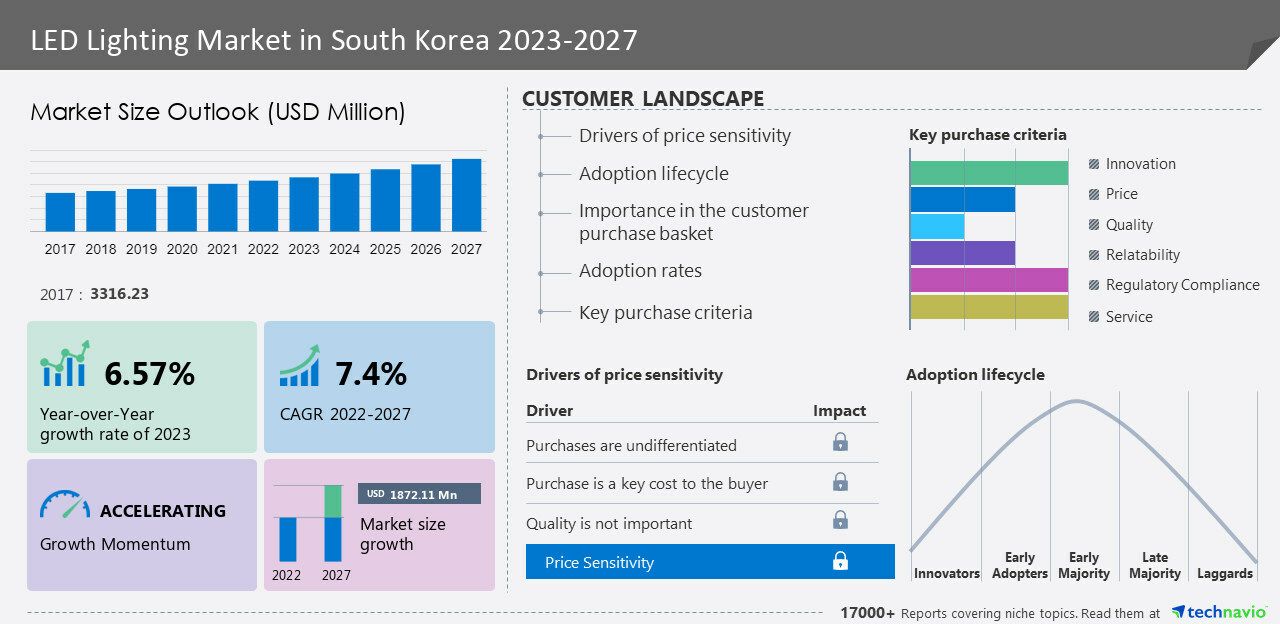 Key Findings:
Key Drivers: The growth can be attributed to the increasing demand from the automotive sector. A steady increase in vehicle production and technological advancements are evident. LED lights, known for their energy efficiency and compactness, are gradually replacing halogen alternatives in the automotive sector.
Market Players: The South Korean LED lighting market includes major companies such as Acuity Brands Inc., Samsung Electronics Co. Ltd., LG Innotek Co. Ltd., and Seoul Semiconductor Co. Ltd. The market structure remains fragmented.
Current trends: Ambient lighting, initially associated with high-end vehicles, is now finding a place in mid-range and base models. LEDs are used primarily because of their size and performance characteristics. Components such as light rings and overhead lighting have become more common.
Obstacles: LED technology faces challenges, most notably its limited tolerance for heat. Compared to traditional incandescent bulbs, LEDs have higher power dissipation. Environmental factors such as elevated temperatures and humidity can affect LED performance, especially in industrial environments.
Market Segments: The market is segmented based on application and product. The residential segment is the fastest-growing segment, outpacing the commercial and industrial segments. Factors such as the increasing urban population contribute to LED adoption in South Korea.

Regional Comparisons:
The LED lighting market in North America is projected to grow at a CAGR of 9.1% from 2021 to 2026 to reach USD 5.81 billion.
Brazil's LED lighting market is projected to grow at a CAGR of 11.64% from 2022 to 2027, with an estimated value of USD 1,651.14 million.

Comments