Seoul, South Korea - SK Telecom (NYSE: SKM) announced its ambition to become a global AI company by strengthening its AI competitiveness and collaborating with partners worldwide.
Why It Matters:
As the telecom company with the largest market share in the South Korean market, SK Telecom has adopted various advanced technologies and business models for the company's growth.
The direction has been revealed as "AI."

The Key Points
SK Telecom unveils an AI pyramid strategy centered on AI infrastructure, AI transformation (AIX), and AI service.

The proportion of SK Telecom's AI-related investment is expected to triple from 12% to 33% over the next five years.

By 2028, the company is targeting revenues of KRW 25 trillion, driven primarily by AI capabilities.

The Big Picture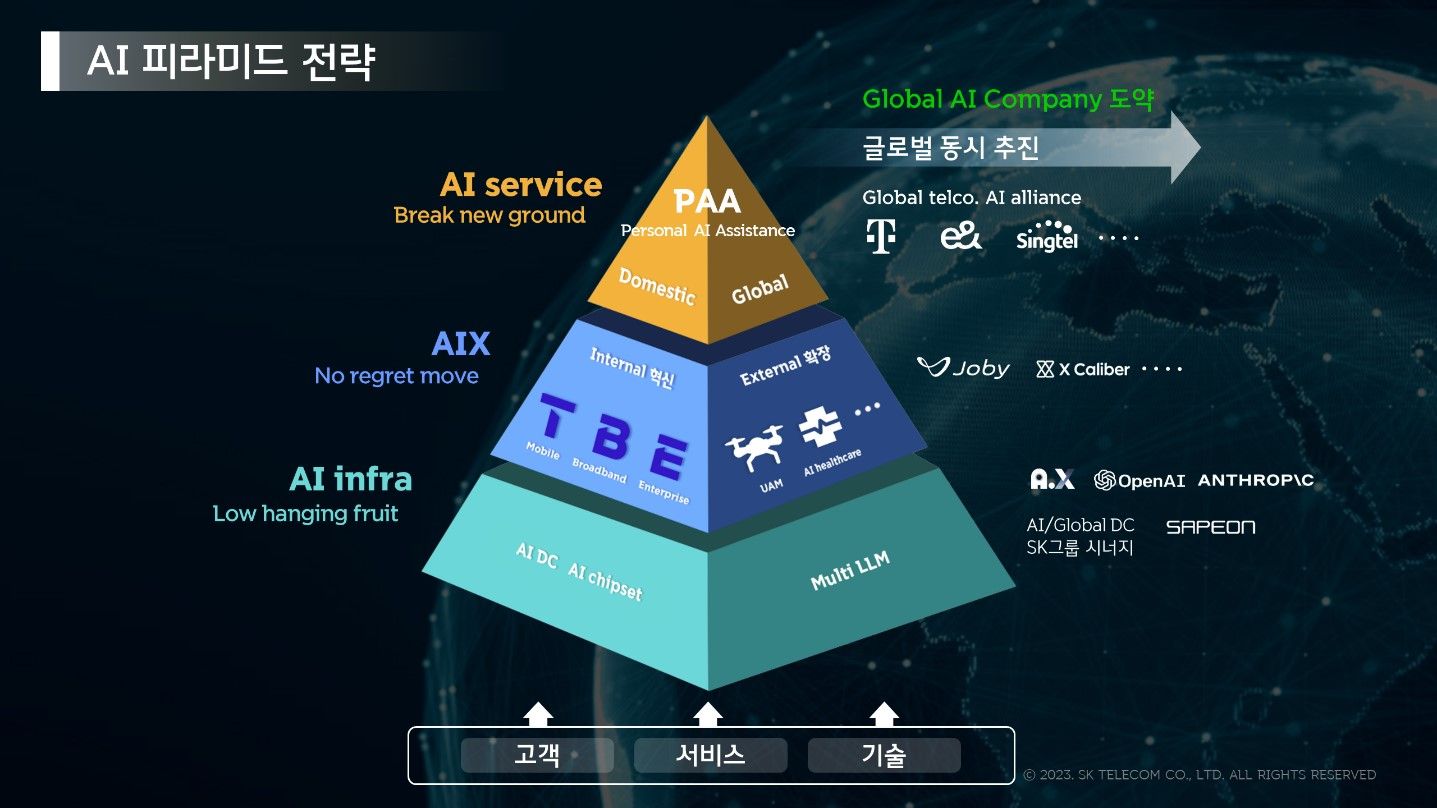 SK Telecom's new strategy, dubbed the "AI Pyramid Strategy," aims to innovate in three key areas.
First, AI infrastructure will include the construction of AI data centers, development of AI semiconductors, and a focus on Multi Large Language Models (LLM).
In response to the data center shortage and environmental concerns, the company plans to introduce energy-saving solutions such as immersion cooling systems and hydrogen fuel cells. It also aims to double its data center capacity by 2030.
Second, AI transformation (AIX) will improve existing core businesses, such as mobile and broadband services, while expanding into new areas, such as healthcare.
The company expects to reduce costs by 20-30% in the medium to long term through AI-driven network deployment and operations efficiencies.
Finally, in AI services, SK Telecom has officially launched "A.", a personal AI assistant service.
This is intended to be a global offering, providing everything from AI sleep management solutions to AI music services based on generative customer prediction models.
The company plans to collaborate with global partners such as Anthropic and OpenAI.
It aims to leverage its AI service-related experience in the South Korean market to develop globally appealing personal AI assistant services.
SK Telecom expects its global partnerships, such as the Global Telco AI Alliance, to advance its ambitions.
In addition to strengthening its internal capabilities, SK Telecom is aggressively seeking external collaborations.

Comments